The Ever Evolving - Balance of the Force: Repair and Refurbish
Justin
December 24 2013, 10:17 AM
Views: 982
Rating:
Last time on the Ever Evolving, after the release of Balance of the Force, I discussed some new lists involving "Watchers in the Wasteland". This week, I'll be moving to the Empire's new weapon in it's arsenal to crush the Rebellion: Repair and Refurbish...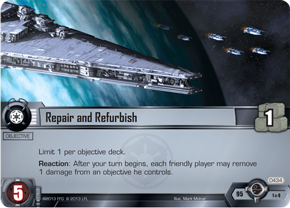 Repair and Refurbish

This objective set has me EXCITED! It has a heavy hitter, a solid enhancement as well as the new amazing fate card "Supporting Fire". The objective itself is quite useful with it's ability to heal objective damage after your turn begins. This ability is quite new for the dark side, and it can be quite powerful because the light side has to destroy objectives to win the game! While the odds of drawing it in your beginning four are pretty slim, there is still a chance to see it in play if your opponent destroys an objective or two.

The set also contains the Thunderflare, an excellent unit for both offensive and defensive capabilities. It has a solid blaster and objective damage, and two edge enabled blasters! This unit is a great defender as a lot of the light side's best units have 3 damage capacity! What makes this unit truly shine is it's reaction ability. Whenever it is focused to strike (either attack OR defending) move 1 damage from a target friendly objective to a target enemy objective. That means even when it's defending it can increase tempo as well as hurt the opponent's! Also, it can take care of objectives with the "While this objective is undamaged..." with out actually attacking them! This is huge if the opponent has a "Secret of Yavin 4" or multiple "Raise the Stakes" in play!

The set contains two copies of " Logistics Officer" making it an excellent choice for a resource pod. The units provide neutral resources and in multi-player they heal even more damage! In standard play though, they are less glorified "Duty Officer"s, which is always fantastic when you are playing non-limited resources!

"Weapons Upgrade" is a nice solid objective damage for 1 resource, and is useful when you need to increase the damage tempo towards your opponent's objectives. Slap it on a Tie Fighter, a Death Squadron Star Destroyer or even the mighty Devastator if you need to destroy a 6 damage capacity objective!

Finally, (and every other objective set in this release) includes a copy of Support Fire. This is a powerful ability in the game, and it can basically help you win edge battles that you may have otherwise lost. It also allows you to bluff a Twist of Fate, so that is some power on it's own. Any card that helps you not over commit to an edge battle is always a great thing.

This objective set has a TON of versatility, and it can see a lot of play in many different decktypes, from straight Navy builds, to Sith splash, or as a splash to Scum. Let's get started...





I hope I can top deck this often...

Imperial Navy Affiliation
2x Defense Protocol
2x Deploy the Fleet
1x Unstoppable Advance
1x Imperial Command
1x Tatooine Crash
1x Sabotage in the Snow
1x Repair and Refurbish
1x Reconnaissance Mission

I know what your immediately thinking when you see that list: That is a SHIT TON of singleton objective sets. But sometime with the Navy, that's OK, because a lot of the cards are doing the same thing. This is a variation of the deck the So-Cal team played at worlds, however it's not running Devastator, but Reconnaissance Mission and it has one less Imperial Command for the natural upgrade to Repair and Refurbish. The idea of this deck is simple, play out units to develop a board, do a little damage here and there, defend as much as possible, then when the dial gets to 6, destroy all three objectives on the same turn. Sounds simple enough! The deck has been a ton of fun to play, and it really shows what the Navy can do as an affiliation.



This guy looks like Cupcake from the Star Trek reboot...

Imperial Navy Affiliation
2x Deploy the Fleet
2x Death and Despayre
2x The Endor Gambit
2x Imperial Command
1x Repair and Refurbish
1x Imperial Blockade

This right here is a pretty straightforward Star Destroyer deck. Utilizing all 6 pods that contain those mighty battleships, it also includes resources to help them out and cards to help prevent the from being locked down from tactics like "Admiral Motti" or the "Endor Gambit". The deck contain 13(!) resources to help power out those Star Destroyers and is pretty much a war path to objective destruction (if your into that sort of thing as the dark side). The deck also can help mitigate some of the damage that is being dealt towards it with the "Defense Upgrade", "Thunderflare" as well as "Repair and Refurbish", so it's got that thing going for it...





For some reason, this set has card art that reminds me of the J.J. Abrams Star Trek reboot..."


Imperial Navy Affiliation
2x Death and Despayre
2x Jabba's Orders
2x Tatooine Crash
1x Mercenary Support
1x Jabba's Reach
1x Repair and Refurbish
1x Imperial Command

So, yeah... that list is kinda weird. I know what your thinking, it looks JANKY. However, that is what appears on the surface, HOWEVER it does do a few things better than most. This deck is about building up your DAMAGE CAPACITY. Card like "Defense Upgrade" and "Jabba's Palace" ensure your objectives can stay in play for a long time. It is not uncommon for objectives to have 9, 10, or even 13 health! That is a lot of staying power, and these cards get more tempo if you enhance objectives that have ALREADY been damaged. I've seen players willy-nilly play Defense Upgrade on objectives that haven't been damaged yet, and I always think to myself "Well, you just wasted a resource and an edge card, because now I just won't attack it. Also the deck has 9 resources to help develop your board. This deck has a TON of tactics icons to help lock down your opponent's board. The deck also contains three objectives to enable "Weequay Elite" to come into play at two or less (two copies of Tatooine Crash, 1 copy of Mercenary Support). The deck has two "Twists of Fate" and two "Supporting Fire" so the ability to win edge battles toward your favor is completely favored out. The deck unlike other Scum builds, also has finishers in the form of the Devastator, and Thunderflare. If you want to try something different give this list a try.





I remember "Shadow of the Empire" for N64, now THAT was nostalgia...



Imperial Affiliation
2x Fall of the Jedi
2x The Emperor's Web
2x Counsel of the Sith
2x Defense Protocol
1x The Emperor's Hand
1x Repair and Refurbish

I previewed this deck last week. Pretty much this is a variant of the list Matt Khols played at Nations/Worlds with some substitutions of "Repair and Refurbish" in place of "Imperial Command" and "The Emperor's Hand" in place of "Reconnaissance Mission". Now on the surface, the Motti for Thunderflare switch seems pretty easy, but Mara Jade and chuds instead of the Human Replica Droids and the Fate card goodness? Well looking over the new list, you notice you lose a few two drops and a copy of a fate card, but in it's place, you get two heavy hitters, a TON of Targeted Strike and two copies of Supporting Fire. You also get some flexibility to heal some damage, and Mara Jade is a pretty SOLID unit, considering she can attack and defend every turn, just like Luke, but she has a tactics icon!

Well that is it for this week. I really like this objective set, and I can definitely see it seeing heavy tournament play for the upcoming Store Championships! Next time, I will be doing a double feature going over the Scum and Scoundrels objective sets so you will definitely have to check that out! Also, Jarrett and myself have been streaming games lately over on our twitch.tv account and we have a video online showcasing the Balance of the Force, so if you haven't seen those yet, check them out. But due to my nature, there is some adult language, so keep that in mind. I'll try and keep that tuned down for next time. You guys have a great holiday with your friends, family and loved ones and I will talk to you guys next year!

Justin


Erthafein - December 29 2013, 2:56 PM
In that first deck: Do you really play it with Imp affiliation and have the single scum POD?
Justin - December 31 2013, 12:17 AM
You can really play it either way, however Tatooine Crash only has one card that requires a resource match, Utinni. And considering the deck has two other neutral pods, I really wanted to make sure I can play multiple imperial navy cards a turn.
Jarrett - January 1 2014, 9:08 AM
@ Justin - You actually can't since Unstoppable Advance is in that list.
Submit your own article on Top Tier Gaming today!
Please login to post a comment.